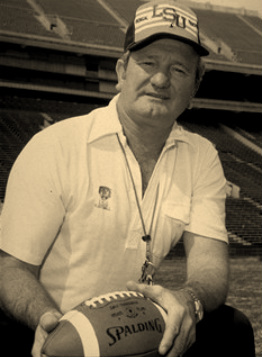 Charlie "Cholly Mac" McClendon
began his legendary coaching career under Bear Bryant in 1950 at the University of Kentucky. Three years later he came to Louisiana State University and as an assistant coach helped the Tigers to the 1958 National Championship. He was elevated to head coach after the 1961 season.
Charlie served 18 years as head coach at LSU, becoming the Tigers' most successful coach by achieving an overall record of 137-59-7. During his LSU tenure he garnered 16 winning seasons. He coached 21 first-team All-Americans and 56 players who earned All-SEC honors.
Coach Mac was named SEC Coach of the Year in 1969 and 1970 after leading his Tigers to a 9-3 record. Eleven of his teams won eight or more games.
After leaving LSU, Coach Mac spent two years as the Executive Director of the Tangerine Bowl (now the Florida Citrus Bowl). In 1982 he became the Executive Director of the American Football Coaches Association. He served the AFCA with distinction for 12 years before his retirement in 1994. Before he passed away in 2001 he established the
Charles McClendon Scholarship
Foundation
to provide scholarship aid to the children of former LSU football lettermen.
In 2007 Charles McClendon was inducted posthumously into the LSU Athletic Hall of Fame. An honor so richly deserved.
---
---
---